Tile
Our choice of materials to cover the concrete bottom is the industrial ceramic tiles. For many years of experience, the most reliable and durable tiles are the German clinker tiles, which has no analogues among Russian and most foreign manufacturers. It is a high-strength, unglazed, ceramic tile with the low water absorption (less than 0.05%), and a high degree of acid resistance. The tile is resistant to abrasion, cracking and scratches. It is resistant to oils, acids and alkalis, and can be used in chemically aggressive zones or zones with high demands on hygiene and cleanliness. Due to its properties, this tile is easy to clean, which is very important for industries. This tile is ideal for production areas of food, chemical, automotive industry. Especially considering food production, such as milk processing, meat processing, bakery, vegetable and salad production, the production of beverages, where the presence of corrosive, acidic and alkaline media concrete bottom and the floor in general.

Secure surface of the tile
In accordance with the safety regulations, this tile has a high level of resistance. Tile surface is presented in several forms, from the most smooth and light texture surface to special shapes with high resistance in the zone of high humidity and water runoff, providing an extremely high level of safety in the workplace.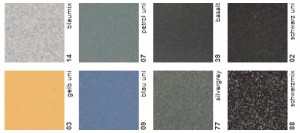 Shape and color
Tile has a wide variety of shapes and extensive color palette. You can choose a standard, classic options or rectangular tiles in different sizes, or hexagonal tiles, which is the most durable due to its widely-deployed angles, and, more recently, the most commonly used in industrial and manufacturing enterprises. As for the colors,
here is a wide selection of the standard colors and a very noble choice, like marble or granite. In general, the manufacturer is not limited with certain colors and can create a new color by the individual customer's request.