Saturn Invest Constructions is specialized in industrial chemically-resistant ceramic floors for the food, chemical and pharmaceutical, automotive and other industries. SIC is an exclusive representative in the area of mounting of industrial floors on the constructions in Russia; and provides the highest quality of services, which meets the highest European standards. Our company works with high-quality European materials, providing the best services in different areas, and passes the certification from the companies' manufacturers of materials to confirm the high level of expertise.
Saturn Invest Constructions performs all floor works, from the preparation of the concrete bottom with the implementation of the necessary ladders, Danish drainage systems, and acid-resistant German ceramic clinker tiles with low ability for water absorption, protective waterproofing epoxy-based mixtures, giving a high degree of protection from the destroying floor acids and other aggressive chemical agents.
SIC operates on the territory of Russia and has established itself as the most high-qualified and reliable partner for our customers; SIC can establish and conduct all the necessary services in construction or renovation of floors for industrial zones. SIC provides high-quality European materials from Germany, Austria, Denmark, as well as gives a multi-year guarantee for the result together with the materials and provided services.
Updates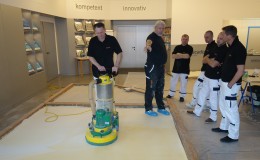 From 26 to 29 January 2015 employees of Saturn Invest Constructions (SIC) visited Ardex Academy in
»
Работа с нами
Выбор нашей компании Вами – это высокие гарантии получения необходимого Вам результата; наша работа – это долгосрочные инвестиции в перспективное будущее Вашего предприятия.

Владимир Ландышев
Директор по развитию